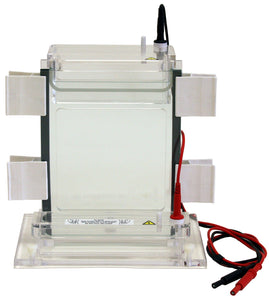 CBS Scientific
CBS "Lite" Vertical Systems
SG-125
Regular price
$632.00
$0.00
Unit price
per
Download Product Bulletin (pdf)
Economical and easy to use with a choice of 4 heights
Features
Single Slab Gel Systems are available in 4 heights: 14.5cm, 16cm, 22cm and 28cm.
C.B.S. Lite System has a cut-out upright for air cooling
Glass plates to fit the 3 sizes offered are 16.5cm(w) with heights of: 14.5cm, 16cm, 22cm or 28cm and can be ordered with a low fluorescent borosilicate back plate. Ideal for fluorescence based assays
Spacer sets are offered in thicknesses of 0.75mm, 1.0mm, 1.5mm, 2.0mm and 3.0mm. 
Applications:
SDS PAGE, Native PAGE and Nucleic Acid PAGE
Complete System:
Vertical electrophoresis cell with leveling base and bubble level
Safety covers and power leads
Leak proof silicone gasket on upper reservoir to which the glass plates are clamped
Platinum electrodes
1 comb (Cat. # VGC-1520), 1.5mm thick x 20 teeth) 
1 set of Gel Wrap

®

glass plates
1 set of Gel Wrap

®

spacers (1.5mm thick)
1 Gel Wrap

®

gasket for gel casting
White spring clamps (Cat. # GPC-0001 and GPC0002)